Nuke Fuel Pressure Regulator FPR100x AN-10
NB, AN10 fittings selges seperat
NOK
Ikke medlem pris:
3.690,-
NOK
Trygg levering:

Vi leverer kun med posten/bring
Nuke Performance FPR100x Fuel Pressure Regulator: Redefining power of motorsports fuel management.
A real beast in a lightweight design. This is an ethanol-proof AN-10 fuel pressure regulator with a slim design and easy-to-mount stainless steel brackets. Every unit is thoroughly tested before delivery, with unmatched functionality and the same high quality as always.
Extreme motorsports regulator
Approved for 2000hp+
Safe for petrol, methanol, and ethanol
Every unit is performance tested
Adjustable up to 120 PSI (8 bar)
1:1 boost reference
Stainless steel mounting bracket
AN-10 ORB inlets/outlet
The most reliable and highest performing 1:1 boost reference solution to bring together simple or complex fuel systems for all types of tuning or motorsports engine setup. Redesigned with precision functionality in focus. Its lightweight design has the trusted hallmark of the entire Nuke Performance range of motorsports parts, with an integrated stainless steel bracket for safe and easy mounting for all applications and installations.
The FPR100x is developed from the extreme demands of the highest level of motorsport
The FPR100x fuel pressure regulator is co-developed with worldwide motorsports teams and fuel pump manufacturers. This fuel pressure regulator is set to perform under extreme conditions, with high horsepower requirements. This regulator is a real beast, the big brother to its little brothers FPR100s AN-6, and FPR100m AN-8, and is designed and tested for usage with well over 2000hp and is fully adjustable between 30 PSI and 120 PSI (2-8 bar).
Fully adjustable between 30 PSI and 120 PSI (2-8 BAR)
AN-10 ORB inlet and outlet, approved for 700-2000hp+
This is the optimal AN10 fuel pressure regulator with the highest flow capacity for setups between 700-2000hp+. With its oversized chamber, outlet, and inlet ports, this AN-10 fuel pressure regulator has the highest possible flow capacity for its kind. Ready for AN-10 ORB fittings, delivered with an AN-10 ORB plug for a single inlet setup. The FPR100x is a product that evolved out of our life at the race track and takes its place on top of the smaller FPR100s and FPR100x fuel pressure regulators.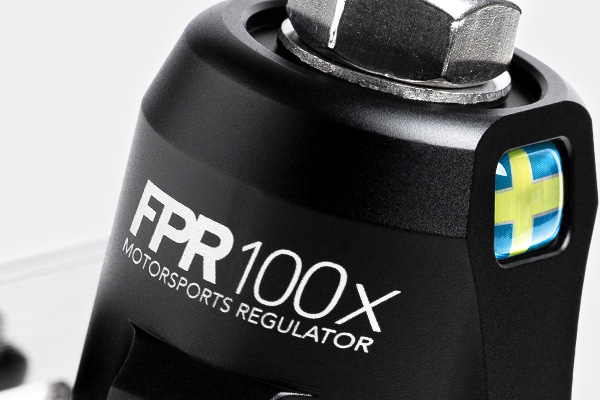 1:1 boost reference and high flow design with minimum flow loss
Fuel pressure rises on a 1:1 ratio when referencing boost with the precision pressure adjustment. Fuel pressure is dialed in using the set screw on top with its hardened steel ball that enables an exact and well-tuned fuel pressure setup, ≈0.14 BAR (≈2 PSI) / turn. Its dual inlet design allows you to choose between a left or right inlet or a dual inlet for a V-engine setup. The 1/8" NPT thread faces forward for easy to read fuel pressure gauge and fuel pressure sensor installation.
1:1 boost reference
1000 LPH free flow rating
AN-10 ORB inlets and outlet
Lightweight motorsports design
With the AN-10 ORB dual inlet design, you can choose between a left or right inlet, or a dual inlet for a V-engine setup. And with the easy access 1/8" NPT thread faced forward, it is easy to attach your fuel pressure gauge or sensor for easy pressure readings.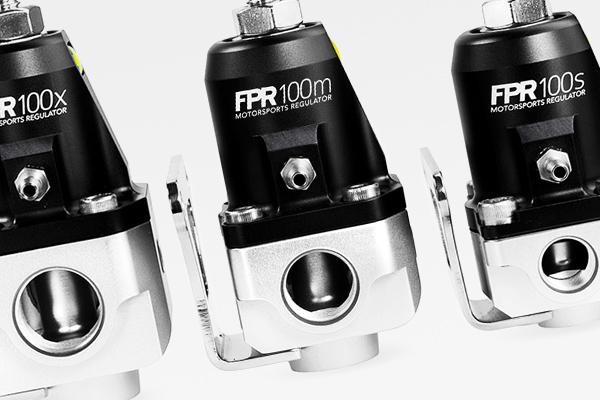 Choose between an AN-6, AN-8, and AN-10 Fuel Pressure Regulator, exceeding your every possible fueling need
The new FPR100-series fuel pressure regulators are available in AN-6, AN-8, and AN-10, and all are fully adapted to your motorsports needs. All three have an extremely slim and lightweight design with the latest technology and functionality.
FPR100s AN-6 : 200 - 700 horsepower
FPR100m AN-8 : 500 - 1200 horsepower
FPR100x AN-10 : 700 - 2000+ horsepower
The option between three different size versions of the FPR100-series fuel pressure regulators lets you choose the optimal function for your setup. In combination with the different fittings for both inlet and outlet ports between AN-6 and AN-12, these FPRs give you a range from 200 all the way up to 2400 horsepower.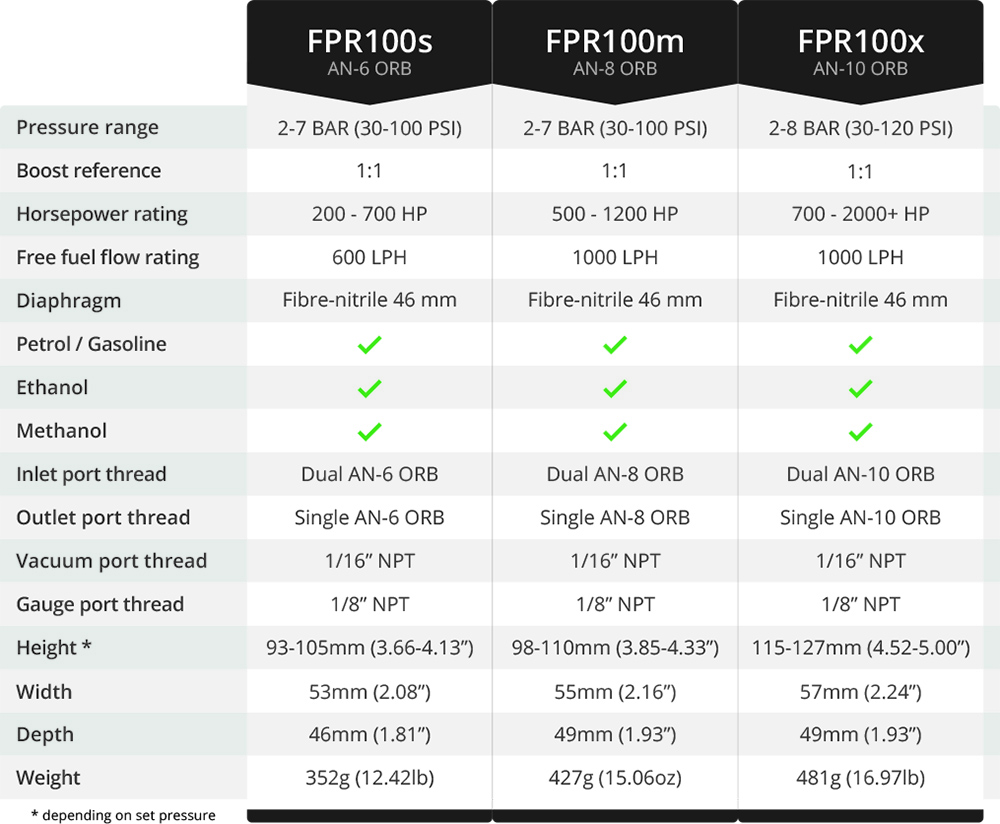 The FPR100x has AN-10 ORB inlet ports and AN-10 ORB outlet ports and is designed for setups between 700 - 2000+ horsepower, making it the most powerfull regulator in the FPR100-series from Nuke Performance.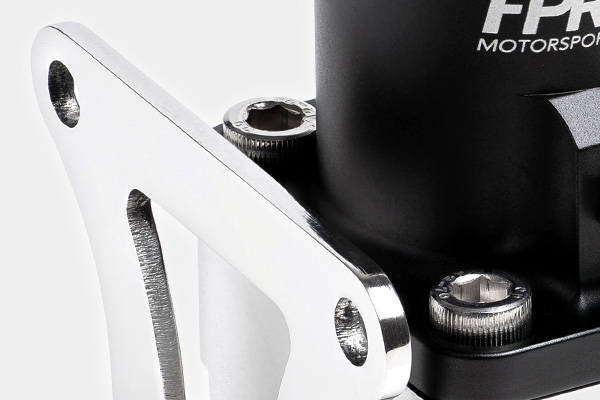 Easy to install with a stainless steel bracket, and safe for all types of fuel, including alcoholic fuels like ethanol
All the FPR100-series fuel pressure regulators come with a sturdy stainless steel bracket that makes them extremely easy to attach to any engine bay, and secures the FPR even during extreme conditions to prevent malfunctions. And like all Nuke Performance motorsports products, the FPR100x fuel pressure regulator is developed, designed, and manufactured with its stainless steel hardware and anodized internals to handle all fuels, including petrol, ethanol, and methanol.
Safe for all types of fuel, including ethanol
Fibre-reinforced nitrile 46mm membrane
FPR100x, the most powerful FPR100-series member
The fibre-reinforced 46mm nitrile membrane of the FPR100x is of the highest possible quality and is approved for all types of fuel, including gasoline (petrol), and alcoholic fuels such as ethanol, E85, E100, and methanol.
Each FPR100x regulator is rigorously tested before delivery
To maximize the quality and functionality of the FPR100-series including FPR100s, FPR100m, and FPR100x, each individual fuel pressure regulator is tested before delivery. Our test facility features world-leading test equipment that can detect even the smallest possible properties that may negatively affect function. There is no shortcut in the manufacturing that leads to the excellent performance and functionality of the Nuke Performance FPR100x fuel pressure regulator.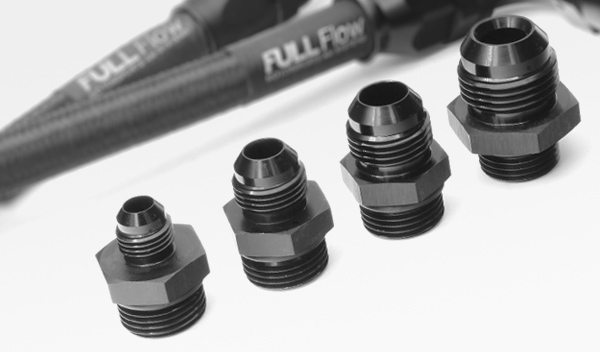 Choose the right fittings for your FPR100x fuel pressure regulator
A 5mm vacuum barb fitting is included, while 6mm pneufit quick connect fittings are available as an accessory. The FPR100x uses AN-10 ORB threads to fit the most common fittings of choice. It comes with one AN-10 ORB plug that can easily be removed for dual inlet applications. It fits most common AN-10 fittings, with the fittings sold separately.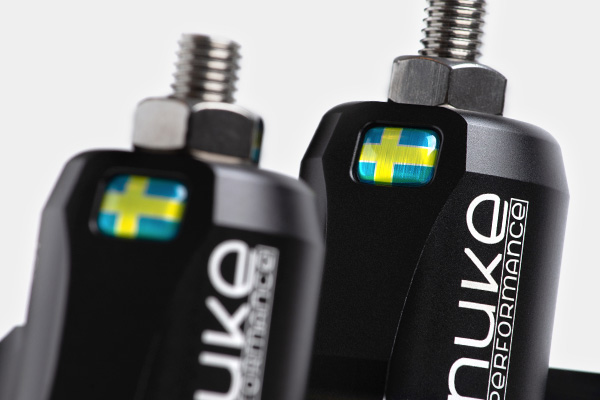 Developed upon high demands from worldwide motorsports
Designed in Sweden, the Fuel Pressure Regulator FPR100x AN-10 has been co-developed and designed with worldwide motorsports teams. The Nuke Performance fuel pressure regulators have never stopped evolving. Always ready to give you maximum function, and with extremely high quality, they perform even in extreme and demanding conditions. The FPR100-series fuel pressure regulators are made with the same hallmark as all other parts in the lightweight Nuke Performance motorsports range.
There is no substitute for the quality of Nuke Performance!
---
Fuel Pressure Regulator FPR100x AN-10 Specifications
For more information about specifications, contact us directly.
| | |
| --- | --- |
| Pressure range | 2 - 8 BAR (30 - 120 PSI) |
| Boost reference | 1:1 |
| Horsepower rating | 700 - 2000+ HP |
| Free fuel flow rating | 1000 LPH |
| Fuel compatibility | Gasoline, Petrol, Methanol, Ethanol |
| Inlet thread | Dual AN-10 ORB, view range |
| Outlet thread | Single AN-10 ORB, view range |
| Gauge port | 1/8 NPT |
| Vacuum reference port | 1/16 NPT |
| Diaphragm | 46mm Fibre-enhanced nitrile membrane |
| Height | 115-127mm (4.52-5.00")* |
| Width | 57mm (2.24") |
| Depth | 49mm (1.93") |
| Weight | 481g (16.97oz) |
| Ball-Bearing adjustment | ≈0.14 BAR (≈2 PSI) / turn |
* depending on set pressure
Nuke Performance Fuel Pressure Regulator FPR100x AN-10 Includes:
1 x 10AN ORB plug for the additional inlet
1 x 1/8 NPT plug for gauge/sensor outlet
1 x 1/16 NPT Barb fitting for 5mm vacuum hose
1 x Stainless steel mounting bracket
2 x Stainless steel bolts for the mounting bracket